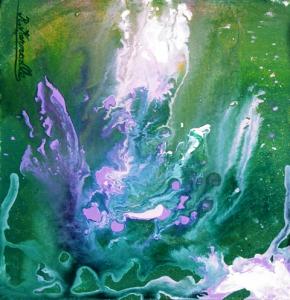 FLUIDISM Original Painting by Robert G. Kernodle
TITLE: Aura
DIMENSIONS: 7 1/8 x 7 1/8 inches
MATERIALS: Art acrylics on foam core, unmounted, unframed


Seven years ago, I made this painting hastily, with NO planning or forethought.  I now store it, covered with tracing paper, between the protective pages of an old wall calendar, in a plastic bag, in one of my desk drawers.  Not long ago, I photographed it for the first time.

This painting came into existence, because I could not bring myself to throw away very small amounts of fluid acrylics, left over from other projects.  I dumped these leftover acrylics onto a small piece of foam core that I previously colored with shades of dark green.   I performed a few manipulations of the foam core to move the liquids around, and I arrived at what you see pictured.  I did not believe that the resulting fluid patterns could survive drying, but these patterns did survive.


Forever Is Now
I call this painting
Aura
, because I believe it has the aura of eternity. Eternity is infinitely and forever fluid.  In each puddle of fluid that we observe now, we see the essence of forever.  Forever is catastrophically beautiful, with unplanned events, or "accidents" that occupy unplanned spans of space and time that are just as important as planned events.
Arguing With Einstein
Albert Einstein supposedly said that God does not play dice with the universe.  I would argue with Einstein, contending that God does something even more unpredictable than playing dice.  God does not gamble, because God does not even reason in the way that some religions preach.  I could argue that God exceeds both reasoning and conscious intentions.
Something else exists prior to reasoning.  Logic is born from illogic.  Thought is born from non-thought.  Human beings think, while the Supreme Being of the universe just acts.  The universe does not need to think, because it simply acts as it always has and always will. 
Eternal dynamic fluid actions rule reality.  Jackson Pollock sensed this, and other people, from past centuries to present times, have sensed this.  The most enlightened artists, scientists, philosophers and religious thinkers all probably sense this in some deep, unexplainable way.